Meet Our Team
Get to Know Us at Edmonton Tower Chiropractic

Meet Clinic Director, Fleur Easom, BA, BEd.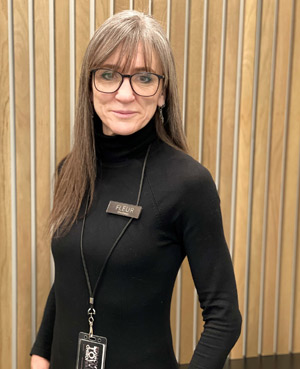 Fleur shares how chiropractic changed her career trajectory and her husband's.
After my husband Pete was injured in a rock-climbing accident in the Royal Air Force, chiropractic changed both our careers.
Pete was a staff physical training instructor and squash coach. He was always an all-round super active guy, participating in 14 sports at the county level. After his injury, there was progressive degeneration. Surgery was recommended when he reached a point where it was thought active service would be limited, and he might have to give up squash altogether.
In a last ditch attempt to find a natural solution, Pete began a chiropractic training program in 2004 and everything changed. Within nine months, Pete was back to full military duty and made the England Over 35s squash team. That achievement helped him decide to leave the RAF to become a full-time professional squash coach.
Ten years on, Pete was recruited as the head squash professional by the Royal Glenora Club. Pete, Fleur and their family relocated to Edmonton, where he's since achieved No 1 status in Canada Over 50s.
Understanding adaptive physiology was a game changer. I cannot boast enough about Pete's squash achievements since he started that program. It was the best appointment I ever dragged him to!
Getting a Broad Education in Natural Health & Wellness
For Fleur, the decision to enter the chiropractic profession was sealed by her husband's experience. She possesses degrees in communication and education, and attended drama school. Fleur was an established actress, theatre company co-founder and media & performing arts lecturer.
In 2005, she left it all behind and began working and training in natural spinal care, health & wellness, and clinic management. Fleur worked with chiropractors, osteopaths and natural health & wellness specialists from around the world.
By 2010 Fleur certified as a natural health practitioner herself, qualified across several modalities. She is also a certified life coach and public speaker.
Her UK qualifications and experience are testament to her commitment and advocacy of the benefits of chiropractic and natural spinal care. It was thanks to that wellness training all those years ago, where Dr. James Chestnut mentored her in the UK, that she was introduced to Dr. Niz in 2020. In 2021, she joined Edmonton Tower Chiropractic as clinic director.
Outside the Clinic
When she's not working, Fleur provides administrative/research support for Academy Psychiatry and works part-time with Squashkidz Inc., providing squash field trips for schools in Edmonton. She is also an apprentice goldsmith/jewelry artist and children's book illustrator.
Get Started Today
Contact Edmonton Tower Chiropractic today to book an appointment!
CONTACT US »

Edmonton Tower Chiropractic Team | (780) 422-1087